Hotel Info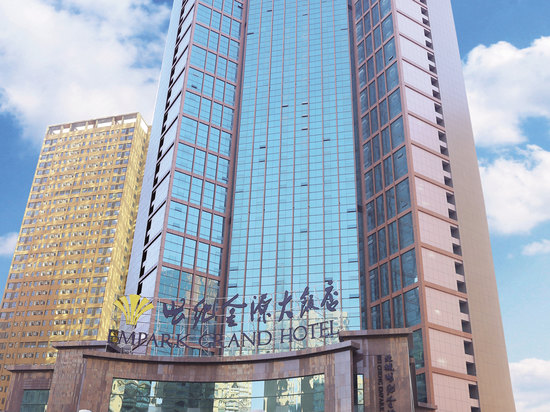 Empark Grand Hotel Hefei Beicheng
is located next to Meichong Lake Park. The lake area of Meichong Lake Park is about 1,700 acres. In the hotel's lake view room, you can enjoy the 'falling sky and solitary flying together, autumn water is a long day'. The hotel is adjacent to Jinyuan Avenue and Huipai Leisure Street in the north. It takes about 15 minutes to walk to Century Jinyuan Shopping Center, which is a one-stop experience of shopping, dining, fitness, entertainment, leisure, and culture.
The hotel belongs to the eighteenth Century Jinyuan Group's modern luxury business conference hotel built according to high star standards. The total investment of the hotel is 1 billion yuan and the total construction area is 160,000 square meters. It offers more than 500 luxurious business rooms.
The hotel has 10 large and small meeting rooms, including a pillarless banquet hall of 1700 square meters, an international conference hall of 580 square meters and conference rooms ranging from 60 to 200 square meters. The conference room is equipped with audio, projector, banner track and Simultaneous interpretation system, etc .; it has a 600-square-meter Chinese food hall, a 700-square-meter cafeteria, and 24 Chinese food boxes, which can accommodate 1,200 people at the same time. The second floor of the hotel also has a 1,000-square-meter special restaurant-Jin Xiaobei Family Restaurant.
With a height of 190 meters, the hotel becomes a landmark in the Beicheng area of Hefei, with complete facilities inside the hotel. It has a 3500 square meter wellness center with more than ten kinds of fitness equipment. It has international standard swimming pools, yoga rooms, spinning rooms, billiards rooms, bathing and steaming services, etc .; the B1 floor of the hotel is equipped with KTV No.1, Century Spa and other entertainment facilities can fully meet the needs of guests from all over the world.